With 2018 behind us, we are welcoming the new year with our health and fitness goals in clear sight. Here at Steele Hill we have all the staples you need to carry on with your healthy lifestyle, even while on vacation. The resort offers various activities and amenities that cater to an active lifestyle including our extensive hiking and snowshoe trail network, as well as an indoor racquetball court and fitness center. If your New Year's Resolution is to get fit and healthy, let us help you stay on track!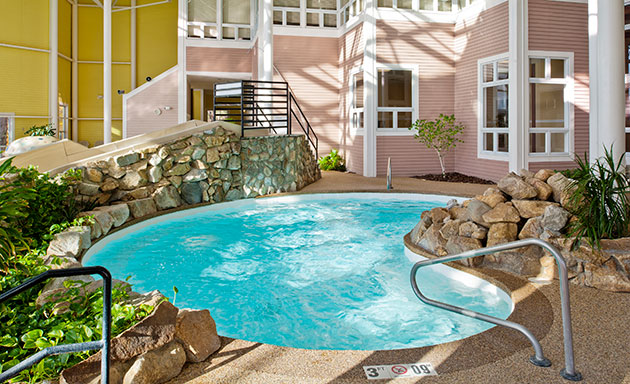 Begin preparing your body for a workout by soaking in our over-sized Roman Spa hot tub. This passive type of warm-up is very beneficial for your body not only working on improving oxygen uptake but increasing the blood flow to your muscles and warming up the core body temperature. While soaking for about fifteen minutes, begin mentally prepping for your workout, envisioning your fitness routine and goals. Our Roman Spa hot tub reaches 104 degrees and is the perfect relaxing start to engage both your body and mind.
Once you have dried off and changed in our sizable locker rooms, stop into our onsite convenience store, The Market, for your workout staples. If you forgot your earbuds at home, pick up a pair here and grab a Gatorade to charge to the room, then you will be ready to hit the gym. Our exclusive health club is only available to our guests and owners making it less crowded and easier to obtain the workout you were expecting. Begin your session doing some low impact cardiovascular workouts by hopping on one of the recumbent bikes, elliptical machines or treadmills and start immediately burning calories. Each cardio machine has a mounted flat-screen television in front of it so you can get lost in a basketball game or the latest episode of House Hunters. Next move over to the resistance bands, CYBEX multi-gym, yoga balls or utilize one of the flat benches with our free weights for more of a total body workout.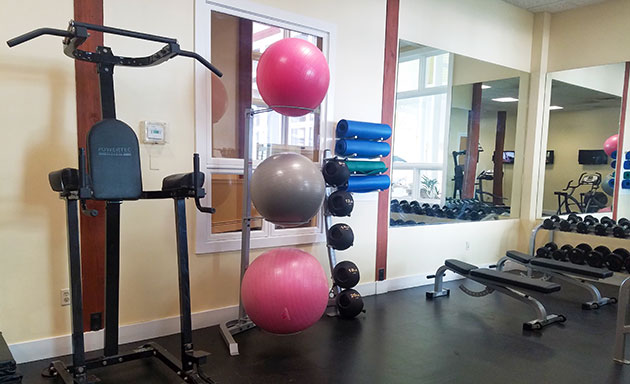 Once your workout is complete, head back to the locker room to change and step into our spacious electrically heated sauna. Not every workout can end with a multi-beneficial trip to a sauna so take advantage of it while you have the chance! Relaxing in a hot sauna results in an expansion of blood vessels leading to lowered blood pressure and better circulation. Spend up to twenty minutes relaxing in the sauna and take this time to unwind and plan out the rest of your day.
If you would like to plan an active vacation, choose Steele Hill Resorts. Keep an eye on our activity schedule as it is ever changing each week including great workouts like water aerobics, yoga, and training sessions with personal trainers.