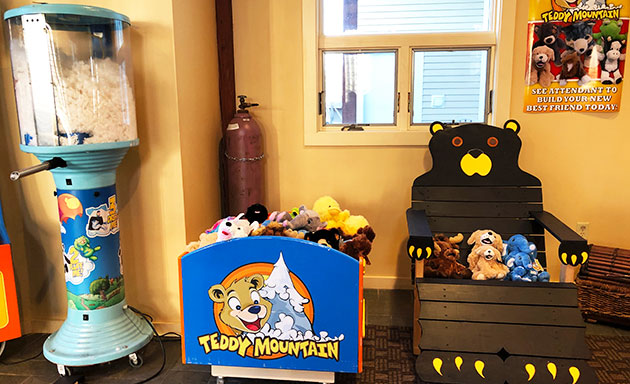 If you are vacationing at Steele Hill Resort there is a possibility that you may spot some wildlife within our 500 acres of unspoiled land. While hiking the trails on our property or just relaxing by the resort pond, keep an eye out for black bears, moose, frogs, ducks and so much more! Safety always comes first so if you do come across wildlife, please keep your distance and admire from afar. However, we do have some animals on property which you are encouraged to get close to! Our Teddy Bear Mountain activity provides a unique vacation experience for those looking to build their new best friend.
Located in our West Amenities building, our Teddy Bear Mountain station gives you and your family the chance to create a furry friend and a memory to last a lifetime. Have fun choosing your favorite animal from a large selection and help fluff it to create the perfect huggable buddy. There are both large and smaller sized animals available as well as an abundance of special outfits of each size to choose from. Once your new best friend has been created, jump up into our custom-made Bear Chair for a photo opportunity with your new animal.
The Teddy Bear Mountain station is an extension of our Market Convenience Store, open daily from 7:30am – 10:00pm. Keep an eye out on our activity schedule for Teddy Bear specials that may be taking place during your next trip to Steele Hill Resort!