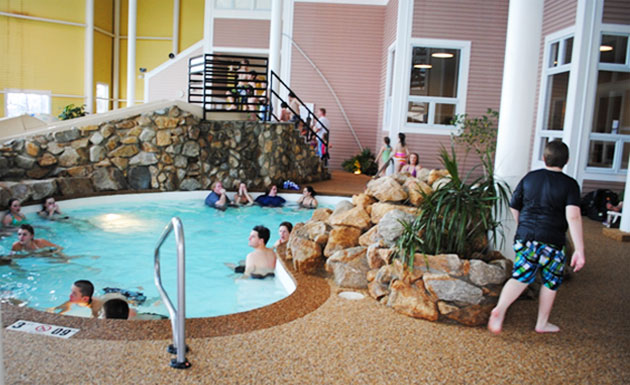 This past weekend, Steele Hill Resorts welcomed the Town of Sanbornton to its Annual Open House. Steele Hill President Bill Cutillo was on hand to greet the town residents with a warm friendly smile. "We open the resort amenities to all Sanbornton residents each year. This is always a great opportunity for everyone to get together in a sunny warm atmosphere and shake off the mid-winter blues. Parents, children and grandparents come up to catch up with neighbors and friends while enjoying the pools, food and entertainment. It is Steele Hill Resorts way of thanking the town of Sanbornton for its support over the many decades that we have been a part of this wonderful community," Says Cutillo.
The resort has been hosting the event for years and it's always a great turnout! Watching the local families visit "The Hill" for some Tropical fun is just such a great sight to see! This year's event included free appetizers and entertainment. Local residents relaxed by lounging in the large roman spa while the kids hit the slide The resort's new Xbox Kinect gaming stations saw plenty of action as residents enjoyed some neighborly competition.
Steele Hill will continue the Open House tradition again next year, opening the doors to the Sanbornton community so they can enjoy a great carefree afternoon with their neighbors.