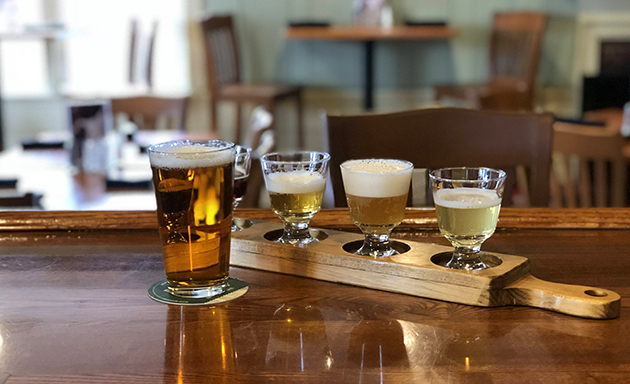 It's no secret that the craft beer scene has taken off in the Granite State over the past several years. Here at Steele Hill Resort we fully support the local craft brewers by carrying their brews in our onsite convenience store, The Market, our onsite dining venue, The Hilltop Restaurant, and with an annual Brew with a View beer festival in the summer.
On tap at The Hilltop Restaurant and Tova's Tavern we keep it all local with seven local drafts and two rotating throughout the year. We are currently offering Long Trail VT IPA made out of Bridgewater Corners, VT, Henniker Brewing Kolsch out of Henniker, NH, NBPT Maritime Lager from Newburyport, MA, Tova's Tavern Pale Ale created by Tuckerman located in Conway, NH, Peak Organic – The Juice from Portland. ME, Smuttynose Robust Porter from Hampton, NH, and Woodstock Brewery's Pig's Ear Brown Ale from Woodstock, NH. For those who stay loyal and true to Bud Light, don't worry as we always have that on tap as well.
Our annual Brew with a View Event is coming up on July 7th, where over 40 local breweries will be sampling their beers. The event is held rain or shine from 4pm-7pm in the Large Venue tent at Steele Hill Resorts. VIP admission features an exclusive hour of limited tastings and swag from the brewery representatives as well as complimentary snacks and free event apparel to bring home as a souvenir. For more information and to purchase tickets for VIP Admission or General Admission visit abrewwithaview.com or give us a call at 603-524-0500.
If you are looking to getaway this summer and are interested in our event we are also offering a Brew with a View Getaway package that includes 10% off accommodations of your choice as well as 2 VIP tickets to the event. It's the perfect package to enjoy a romantic getaway and everything Steele Hill has to offer. Resort amenities include two outdoor pools, a four-season outdoor hot tub, golf course and more.
Leftover beers from the event will come right back to us at the resort where our beer selection will nearly triple for guests to choose from over the Summer. For an ongoing list of brewers coming to the event check out our Facebook page to stay updated. In the meantime, guests and locals are welcome to head up to The Hilltop Restaurant or Tova's Tavern and enjoy a flight of 4 – 4oz brews for just $10.