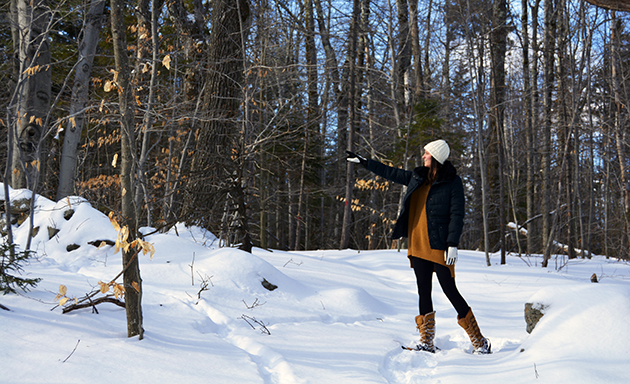 Have you fallen into the winter blues? Well shake them off and head up to Steele Hill Resorts, this is a great time of year to embrace winter by trying something new! Our resort is unique in that we offer a wide variety of amenities that you can try for little to no cost. In the summertime guests enjoy free access to our 9-hole executive golf course and this is just one of the many activities you can participate in. But when it's a winter wonderland out and you don't feel much like skiing, renting a pair of snowshoes offers a great way to explore the natural beauty surrounding the resort without a whole lot of skill required.
Set amongst 500 acres of New Hampshire fields and forests, Steele Hill boasts over 3 miles of trails surrounding the property. Experience a picture perfect day exploring our beautiful wooded setting on a pair of snowshoes.
Wake up in the morning and enjoy a cup of coffee and breakfast from the comfort of your room, or head down to The Market for a waffle or bagel. After a relaxing morning, throw on your snow gear and a good pair of boots and head to the front desk where you can rent a pair of snowshoes for the day. Grab a trail map and head on over to one of the trail heads, throw on the snowshoes and you're ready to go. If you've never been before that's okay, there is no secret trick you can just start walking.
There is nothing quite like the peace and quiet that comes from being in nature. Whether you want to walk all three miles or just go a small distance that's okay, feel free to go at your own rate.
Once back at the resort, hop in one of our roman spas in the West amenities building, or head out to our four-season outdoor hot tub where you can warm up from a cold winter day. Enjoy a delicious spiked hot cocoa or baileys and coffee from Tova's Tavern for an afternoon pick me up.
Whether you are looking for a romantic getaway or just want to grab the family and spend some quality time together, snowshoeing around Steele Hill is truly a great activity for everyone.
Snowshoe rental rates for adults are $10 and $5 for kids, if you already have your own feel free to hop on the trails at any time.