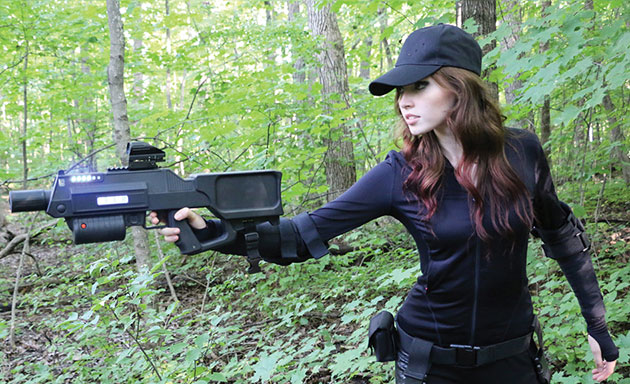 Tag! You're it! Experience the excitement and rush of Steele Hill's newest amenity, laser tag! Our outdoor laser tag course is a battle space equipped with barriers, obstacles and props to enhance your live action gaming experience. This unique amenity is perfect for couples, bachelor(ette) parties, family reunions or individuals looking to join in on some exhilarating fun!
The adrenaline packed game is a combination of tag, hide and seek and capture the flag, with the main objective of earning as many points as possible by shooting the laser gun at the targets located on the adjustable headbands of the opponents. Forget about the large clunky vests and ultraheavy guns, our state-of-the-art laser tag equipment includes robust features and a versatile design proving to be the perfect unit for players of all experience levels aged 6+.
Each session lasts for a full hour and competitors are split on the battlefield starting at their home base. Once the game starts, participants will dodge laser shots from opponents while ducking, army crawling and running to find the best location to obtain the perfect shot to defeat the enemies. A Steele Hill Resort's official is also onsite to assist with set up as well as explain and direct the game. The team with the most kill points at the end of the game is deemed the winner!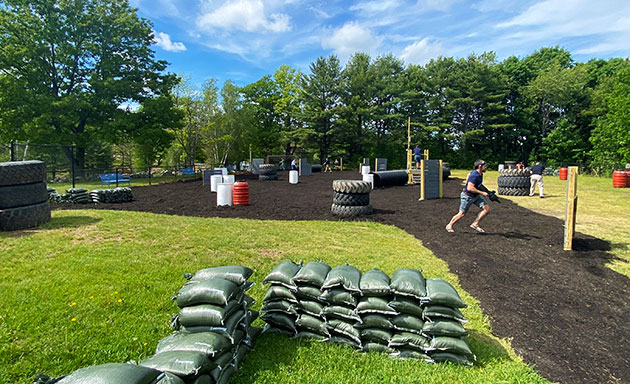 Once you have given it your all on the course, head over to the onsite Tova's Tavern and refuel with a bite to eat and enjoy a signature drink at the full-service bar. Afterwards, be sure to stop by one of our many resort hot tubs or Roman Spa to soak your muscles and relax after your competitive game play.
Inside tips for a successful game:
Come prepared with proper clothing and attire. This can be a dirty game so be sure to wear closed toed shoes, and appropriate battle wear that you do not mind getting dirty
Preview the course before gameplay starts, you may be able to find the best spot prior to actual battle
Don't be afraid to switch your scope view and weapon mid-game as there are multiple different presets
Keep firing! One shot won't count as a kill so don't be afraid to rapid fire if you have someone in good range
Keep an eye on your health LED indicator displayed on your gun throughout gameplay to have a sense as to how soon you may need to respawn at your base
Use the obstacles and barriers to your advantage by hiding behind/in them to snipe your enemy
Communicate with your team. Come up with a game play strategy to dominate the field while letting your teammates know where the enemies stand (or lay)
Did you carry your team? Check your gun at the end of each round to see how many kills and deaths you had personally
Finally, have fun! It can be competitive, but it should always be a fun and exciting game