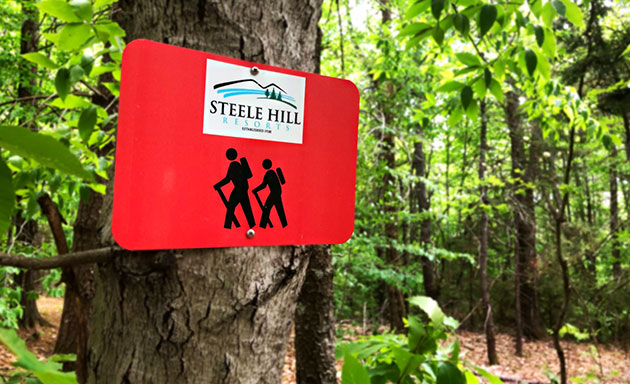 Vacationing at Steele Hill Resorts is the perfect escape for a breath of fresh air. Now, more than ever, is the time to focus on your health and well-being. Why not do so in the pristine natural location of the Lakes Region? Set amongst 500 acres of land, Steele Hill is the ideal destination for guests looking to take a break and get away from the current stresses in life.
Encompassing the edge of the resort is a network of over five miles of gentle hiking trails which loop together giving you the option to choose one trail or to trek all three of our major trails. The trail's terrain ranges from easy to moderate with fragments of some trails including slight hills with higher elevation. Our trail system is ideal for peaceful nature walks or trail running workouts and can be traversed by all skill levels of hikers ranging from beginners to advanced. The paths, as well as the surrounding areas, are maintained very well, cleared from brush and debris and are marked perfectly throughout.
Be sure to bring your camera as the trails feature many species of native trees and wildflowers as well as the chance to spot some New Hampshire wildlife on the way! Along the Yellow Trail, there is a large picturesque field with a beautiful open view of the Kearsarge Mountain Range in the distance. As you continue onto the Red Trail, you will find an adventurous connecting trail (named This Is My Song) to the Sanbornton Town Forest. The Red Trail also travels alongside a marshy area and leads to the Joseph Leavitt Burial Ground, dating back to the early 1800s. The Blue Trail, our longest trail measuring at 1.5 miles in distance, wraps around the lower half of the campus bringing you around the Resort and South buildings and the last five holes of our 9-hole executive golf course. Along the way you will find the ideal resting or snacking spots, either at one of our installed picnic table locations or along the perfectly situated rocks in close proximity to the path. Each trail within our diverse system is unique in its own way providing different scenery and terrain, making our network one of the best kept secrets in the Lakes Region.
If you are looking for some peace and tranquility, especially during these hectic times, hit the trails. There are numerous benefits from hiking including lowering stress levels, connecting with nature, getting a good cardio exercise in and either spending some much-needed time as a family, or taking advantage of some alone time. If you do plan on using our trail system, here are a few tips for an enjoyable excursion:
Check the weather forecast before heading out
Bring your trail map with you
Be sure to apply insect repellent and sun screen before you begin your adventure
Try to wear bright colors as well as proper footwear
Lastly, take time to appreciate the beauty of the nature surrounding you