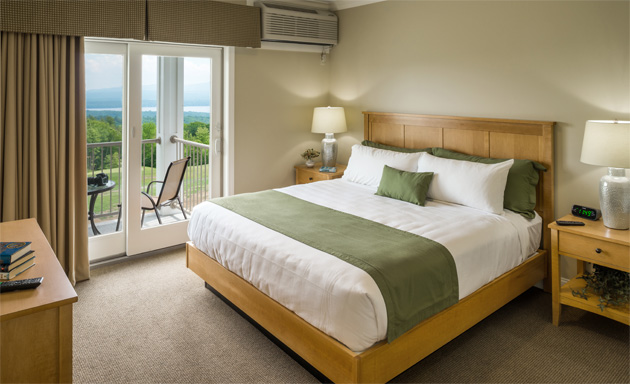 Quality, comfort and cleanliness are three key attributes to an enjoyable hospitality experience. This statement is particularly true when it comes to bedding and linens. In an effort to further upgrade the guest experience at Steele Hill, management made a decision to roll out the Zephyr Bedding Package to all king size beds at the resort. Over the course of the summer and into the fall, dreams of soft linens and fluffy, white duvets became a reality.
What is the Zephyr Package you ask? Imagine a large king bed wrapped in high thread count sheets and topped off with a comfortable duvet all in bright, ivory white. Premium pillows provide a comfort-centric headpiece with an accent of color adorning the foot in the form of the bed scarf. Are we feeling cozy yet? According to the recent feedback, our guests sure are.
The upgraded bedding has been a major hit and it is merely one of the many steps the resort has taken over the last few years to continue to boost the hospitality experience. With the new year shortly upon us, many additional projects are on their way. In the meantime, if you are looking to experience things for yourself, reserve a room with a king bed and try out our new bedding.