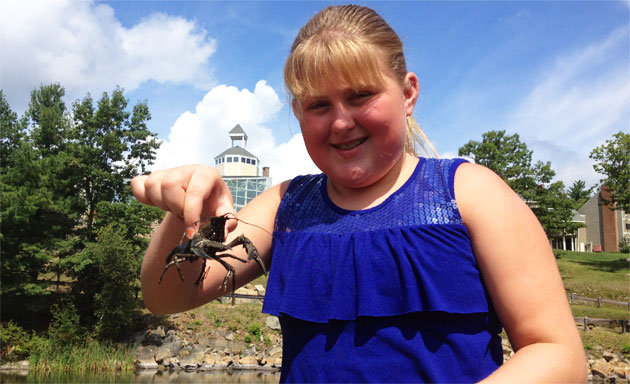 With the sheer variety of amenities at our New Hampshire Resort, who would have thought that the pond is often the biggest draw? Golfers love the views from our 9 hole course. The new, full-sized basketball courts have been a huge hit and the west indoor pool is what we are known for, but often times, on those bright and sunny summer days, visitors flock to the resort's large fishing pond.
In part, the popularity is driven by our activities director showing kids and adults alike all of the wildlife that calls the pond home. From the resident snapping turtles to the stocked rainbow trout and the old bull frogs, Steele Hill's fishing pond can be a great substitute for a trip to the aquarium. Oftentimes guests will get a chance to get up close and personal with the resident animals.
This year, Brianna, one of our luckiest guests, was able to catch the biggest crayfish on record at Steele Hill. While the picture doesn't quite do it justice, this king of crustaceans measured out at almost 7 inches long. Good job Brianna and thanks for helping us release him back into the water. Future guest are bound to be in for a shock when they think they see a lobster strolling along the bottom.