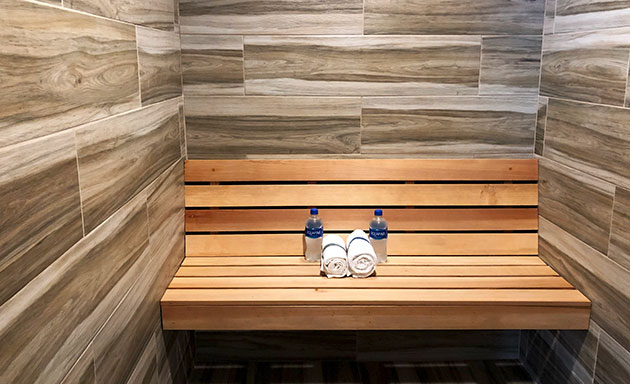 If you have been able to visit our West Amenities building within the past month, you may have noticed a big change. We have recently completed a total renovation of our West electric dry heat sauna that may literally and figuratively take your breath away.
Picture yourself finishing up an intense cardio session in our exclusive fitness center then heading over to our newly renovated sauna to kick-start your body's recovery process. Spending up to twenty minutes in the sauna not only increases the circulation in your body, but also in return promotes relaxation and reduces stress as well as allowing you some down time to finish (or start) planning the rest of the day ahead of you.
As you approach the sauna you will notice the new quality cedar door smoothly sanded and equipped with a thermal window. Once you step in, there is a single custom cedar bench to replace the old block benches as well as an updated mounted cedar guard rail and ceiling boards. The walls and floor have been completely reconstructed with an Ansley Amber ceramic tile for a more modern feel while you relax in front of the brand-new heating unit. Sweating has never been so nice!