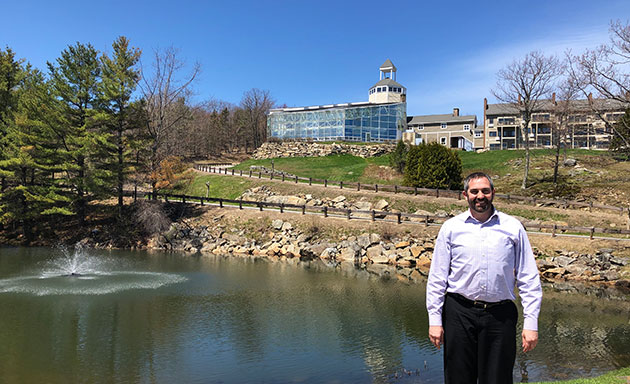 Ice out on the big lake was announced a couple of weeks ago and winter has released its grip on the Lakes Region. The grass is turning green, the spring flowers are blooming and our staff is busy preparing for your arrival for this upcoming summer vacation season. The housekeepers are busy with carpet cleaning, deep cleaning and restocking the units. The maintenance staff have been busy installing new mattresses and appliances in many of the units throughout the resort as well as repairing the pool decks and painting the outdoor pools. It has been a very rainy spring but the grounds crew continues to make progress cleaning up the property and preparing the golf course, which will be officially opening on May 24th. The food and beverage crew is excited to be releasing a new menu on June 1st, which contains some of the current favorites along with a new variety of appetizers and comfort food offerings. We are all looking forward to tasting their new menu items and summer beverages.
Nancy, our activities director, is preparing new crafts and scheduling events for all of you to participate in. We will be featuring The Wildlife Encounters animal presentation on Monday nights during July and August. Magic Fred, the magician, will be performing table side in The Hilltop restaurant on Tuesday nights and we will have various musicians throughout the season performing in The Hilltop as well as at the outdoor pools. In addition to all of the scheduled activities there are always plenty of fun things to do on your own at the resort; take a hike on one of our trails, fish our stocked pond, play a game of tennis, volleyball, racquetball, badminton, horseshoes, soccer, basketball, or corn hole.
On Independence Day, we will be holding our annual 4th of July barbecue and fireworks display as well as the 5th annual Brew with a View craft beer fest on July 13th. The Lakes Region has so much to offer vacationing families during the summer months. Enjoy a day at the lake or zip lining down a mountain. However you decide to spend your vacation we appreciate you choosing Steele Hill as your vacation destination and look forward to seeing you all this summer.
Sincerely,
Rob Robillard