If you are in the Lakes Region this weekend and you enjoy delicious culinary creations of different international cuisines, then you are in luck. This Mother's Day weekend, come treat mom to a variety of appetizing menu options all weekend long. Kick off the flavorsome weekend on Saturday with the Exit 20 Food Truck Festival but be sure to save some room to indulge in our Mother's Day Brunch at Steele Hill Resort's very own Hilltop Restaurant taking place on Sunday.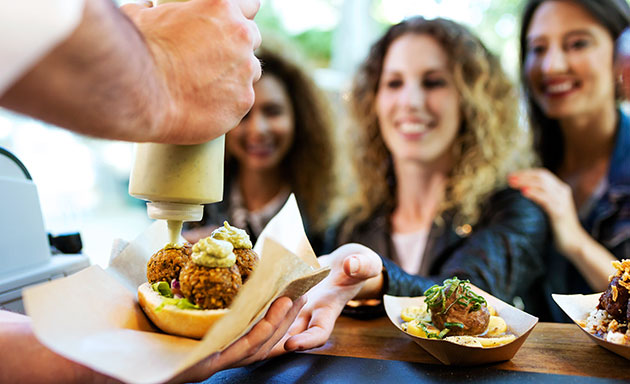 The Exit 20 Food Truck Festival is centrally located at the Tilton Tanger Outlet Mall, ¼ of a mile away from I-93 exit 20. Stop by anytime between 12pm – 5pm on Saturday, May 11th to enjoy an assortment of gourmet bites from over a dozen different vendors. This is a foodie experience you won't want to miss out on with a variety of options including Cajun, Creole, Caribbean, Mexican, American, Italian and authentic cuisine from South India. While snacking on your delicious eats, enjoy live music played by the All You Got Tour and a professional Hula Hooping performance. This festival is not exclusively about sampling food, visitors can also tour a bit of automotive history by taking a walk through the classic/antique car meet up. Car enthusiasts will be treated to an up-close look at an impressive variety of classic vehicles. Once you have tasted as much as your belly can handle, burn off some calories by playing some of the giant yard games that will be set up or take advantage of all the start-of-summer sales and tax-free shopping available at the 50+ stores at the Tilton Tanger Outlets!
How nice does a long soak in a Roman Spa sound after an eventful day of sampling multiple different dishes and shopping the afternoon away? Steele Hill Resorts is your perfect choice for Tanger Outlets Lodging. Not even a twenty-minute drive away from the mall, Steele Hill has everything you need for a relaxing and rejuvenating weekend getaway. Whether you are surprising mom with some quality bonding time or escaping for a weekend with your significant other, Steele Hill is a vacation destination for all ages. Once at the resort, play a friendly one-on-one game of basketball or hit the weights in our exclusive health club before stargazing in our four-season outdoor hot tub.
When you wake up Sunday morning, head on over to The Hilltop Restaurant for an extravagant and delicious Mother's Day Brunch Buffet. With menu items including: a fresh fruit and berry display, croissants, tomato bisque, choice beef sirloin, farm fresh scrambled eggs with charred salsa and Asiago cheese, French toast and maple syrup made from the Steele Hill Farm, and an elegant Mother's Day dessert table, this unique event is sure to make every belly content. When you stay using our special Shop and Stay promotional package, you receive 20% off the accommodations of your choice and a $25 Tanger gift card valid for use at any store at the Tilton Tanger Outlet Mall along with a $25 resort gift card which can be used towards your Mother's Day Brunch! Make some lasting memories this Mother's Day Weekend by taking the vacation you and your loved ones deserve.