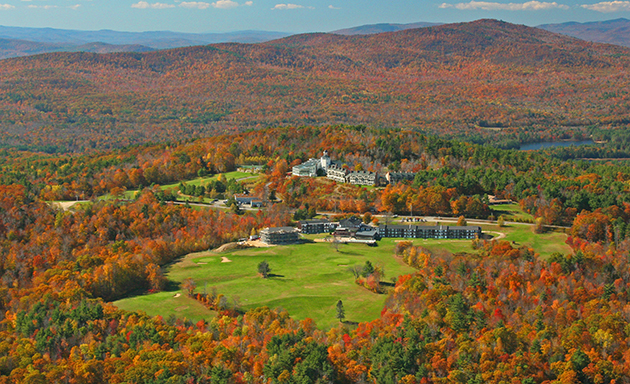 During the foliage season, the drive up Steele Hill Road offers all the breath-taking colors of fall in New Hampshire. It is often those small moments that set the tone and build the suspense for what is sure to be a worthwhile view of one of the best fall foliage vantage points in New Hampshire. After check-in, head to your room where you can unwind, and use this guide on how to make the most out of your leaf-peeping getaway to Steele Hill Resorts. Steele Hill also offers some amazing Fall Savings Packages, and you can check those out here.
Start off your vacation walking along one of the five hiking trails we have surrounding the resort. Breathe in the clear, crisp air of the New Hampshire country side as you walk through the woods, it will give you the opportunity to see the foliage and nature up close and personal. Make sure to keep your eyes peeled and you might even see a deer grazing in the fields or an owl perched up in a tree.
After a long walk, grab lunch near the big windows at the on-site Hilltop Restaurant. Admire the beautiful fall colors overlooking Lake Winnisquam the Belknap mountain range. Enjoy a hearty soup or the mac n cheese to warm yourself up for a cool fall day.
Head into town to Smith Apple Orchard, and pick your own apples; if you haven't done this before, it is a must! There is nothing better than picking a local farm fresh apple straight from the tree and biting into it. Tractors tow you through the farm to the right trees and you are free to pick as many or as little as you want. Make sure to grab some granny smith apples so you can head back to the resort and bake some fresh apple crisp in the comfort of your own kitchen. In New Hampshire, apple picking is a favorite fall activity and your family i sure to enjoy quality time together in the countryside.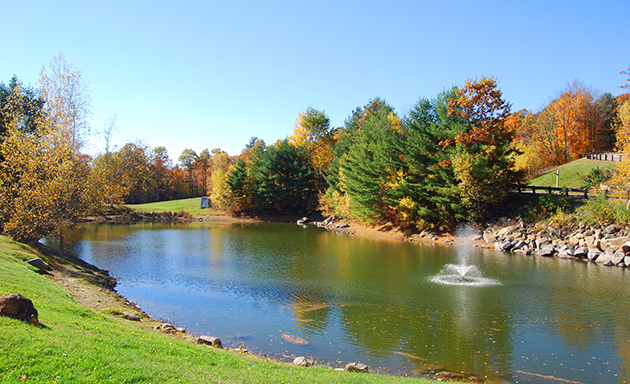 Once back at the resort, drop your apples off and head back outside, what better way to soak in the fall air than sitting back and leisurely catching a few fish in our fully stocked catch and release pond. If you didn't bring fishing supplies, our on-campus convenience store, The Market, has everything you need.
After a busy afternoon outdoors, head back to your room and cook up some dinner for the whole family, and don't forget to make that apple crisp. Enjoy playing a card game, or grab a movie from the check-in office to relax with after the long day. If you're up for it, head outside and enjoy our 4-season oversized jacuzzi, where you can warm up on a cool fall night.