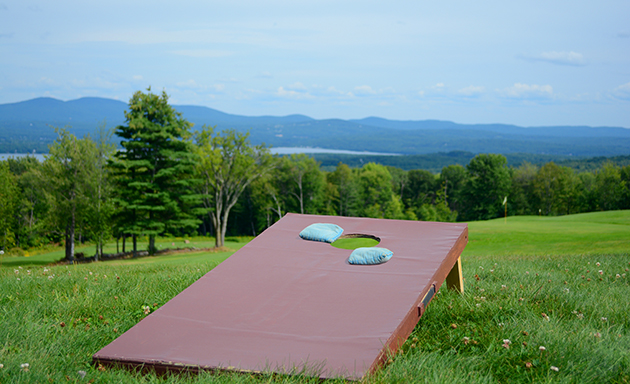 Steele Hill Resorts provides you with everything you need for an afternoon of fun with the family. On a beautiful summer day, no one wants to be stuck inside. So, take our cornhole or horseshoe sets outside on the lawn by the resort pool overlooking the mountains and lake, grab a drink from the poolside cabana service, and light up the grill for an afternoon BBQ.
Cornhole, a game for all ages can be played anywhere and is easy to learn. Gather your family and get into teams of two players, you can play leisurely or tournament style. Just ask for the boards by the pool and a staff member will take them out for you. Pay attention to the activity schedule and we may even be holding a cornhole tournament under the white event tent while you are here.
For those looking for a bit of summer nostalgia, head on over to the horseshoe pits. The game of horseshoes, like cornhole, is a great way to enjoy the outdoors with friends and family. Get into teams of two and alternate trying to get the horseshoe around the stake. The horseshoes are located in front of the northwing of the original resort property. With views overlooking beautiful Lake Winnisquam and the Belknap Mountains, this is a great place to spend a summer day.
It's a tradition to have a beverage in hand while playing lawn games, and there's nothing better on a hot summer day than a tasty drink. Hit up the poolside cabana service or make a visit to Tova's Tavern to grab a soda for the kids and a craft beer or one of Steele Hill's famous rum buckets for yourself.
Pull up next to one of the outdoor grills and make a day of it. They are a hot commodity in the summer months so make sure to get there early. Grill up some hotdogs and burgers and continue to enjoy the afternoon games and fun without interruption. After all, this is what a family vacation is all about.