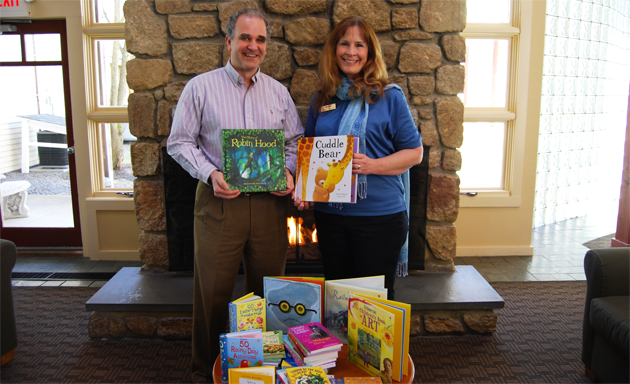 In keeping with a tradition of supporting the local community, Steele Hill Resorts offered guests a special treat during the recent February School vacation period. By hosting an Usborne Books & More Book Fair, the resort was able to provide vacationers with some great reading material during their break and help raise money for the Sanbornton public library.
"We set things up in our activities room and brought in some pizza to help attract more vacationers," says Nancy Sapack, Steele Hill's activities director. "The guest really enjoyed themselves and we were able to raise a significant amount of money for future book purchases at the Sanbornton public library."
Carol Varney, Usborne Books & More local representative, organized and ran the book fair one day during each of the two school vacation weeks at no charge to the Resort. "When a school, business or organization hosts an Usborne Books & More book fair, they earn up to 50% of the total sales back in free Usborne children's books. Businesses can use this as an opportunity to help non-profits as the Resort has done here with the library," explained Varney. This was the first time an event of this type was held at the Resort and, according to Varney, the Resort's guests and staff alike responded very positively to it and especially appreciated the fact that half of their purchase was coming back to the local library in free books.
Cab Vinton, Sanbornton Public Library's Director, was perhaps the happiest person, though, when he received the news of the successful book fair and was asked to submit a list of over 30 book titles of his choice. The new additions are slated to add to the growing children's section at the town library.
"Sanbornton has been a great place to grow up in and do business in over the years. Having a chance to give back to the community is a truly rewarding experience. I hope the new books will help put a smile on the faces of the kids at Sanbornton Central," stated Justin Cutillo, Steele Hill Resort's Director of E-Marketing.