If you have ever driven the backroads of New Hampshire during the early spring season, chances are you have noticed large metal buckets hanging on the trunks of trees. These buckets are used for collecting sap from the Maple trees only in the North Eastern part of North America. Once collected, the sap is transferred to a sugar house to begin the process of producing delicious and organic pure maple syrup. New Hampshire may arguably have the best pure maple syrup in the country and we are lucky enough to source our very own right here from our Steele Hill Resort property!
Steele Hill works closely with Tim and Heidi, owners of HT Farm LLC at 60 Federal Street in Belmont, New Hampshire where their sugar shack is located. Tim and Heidi tap the widespread maple orchards on the backside of Steele Hill to produce some of the most enjoyable locally crafted maple syrup around. Each year, Heidi and Tim set up close to 3,000 taps. These taps run into an extended piping network using plastic tubing which connects to multiple main lines to maximize the flow of the sap. These tubes lead to the large collection bin located a half mile away from the resort where some days they are able to gather up to 1,500 gallons of sap! Once the collector is full, they are able to pump the sap into a separate collector located in the bed of their vehicle to transport to the farm where they complete the process of making the syrup.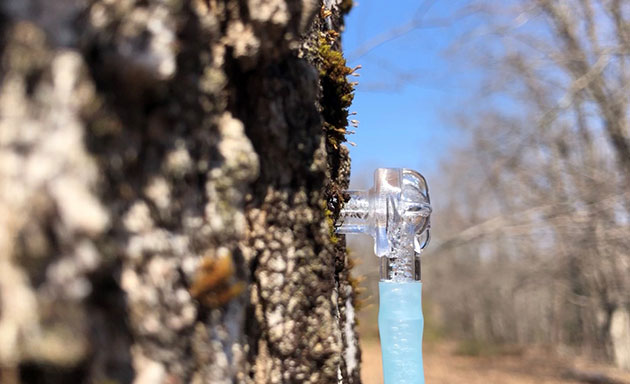 The sap season ranges from year to year and is very weather dependent, needing Mother Nature's full cooperation by providing temperatures just below freezing at night and low forties during the day. This makes it just warm enough for the sap flow to thaw without being too warm and causing the trees to draw up excessive nutrients. On an average year, Tim and Heidi produce anywhere from 900 – 1,000 gallons of maple syrup. Guests are able to find the locally crafted syrup in our onsite Market and it is also used during our weekend breakfast offerings at the Hilltop Restaurant. The products all have a NH Seal of Quality based on the assessment from the NH Department of Agriculture, Markets and Food. We also carry many of Heidi's delicious homemade jams and original gourmet beef in our onsite convenience store.