Labor Day has come and gone and the leaves are beginning to change in the Lakes Region of New Hampshire which means the apple orchards are starting to open up for their 2019 autumn season. Many orchards in the area consist of multiple different types of trees which produce several varieties of apples including favorites like: Macintosh, Red Delicious, Cortland, Ginger Gold, and many more. Whether you are planning on a family outing or heading out for a date day to the orchard with your significant other, there are multiple "pick your own" traditional New England orchards in close proximity to Steele Hill Resorts. Take a look at the list below and let us know your favorite!
Surowiec Farm:
Surowiec Farm is located just fifteen minutes away at 53 Perley Hill Road right in Steele Hill's hometown of Sanbornton. The farm is perched atop a hill providing an expansive backdrop of scenery overlooking the beautiful mountain foliage to the north and west. The farm opened on Labor Day weekend and their apple season extends through mid-October. Visitors can opt to grab a bag and head to the orchard to pick their choice of apples or visit the quaint farm stand which includes pre-picked apples along with many seasonal vegetables such as squash, broccoli, potatoes, carrots, onions and more! Don't forget to visit their pumpkin patch which consists of pumpkins of all sizes great for carving, baking or decorating!
Stone Mountain Farm
Situated in our neighboring town of Belmont, just a twenty-minute drive away, Stone Mountain Farm is a family-owned high-density apple orchard with the primary focus on growing the fruit, not the tree. The trees use the support of posts and wires on a trellis which makes the apples much easier to reach for farm visitors. The orchard consists of 40 varieties of apples ranging from early season apples ready by August 25th, many mid-season apples ready between September 10th through September 20th and about a dozen late season varieties that are available through the beginning of November. There is also a farm stand located at the orchard which is open daily for visitors looking for some autumn decorations like corn stocks, pumpkins and gourds.
Smith Orchard
Smith Orchard, also located in Belmont New Hampshire, is the definition of a traditional New England apple orchard, with some apple trees dating back to the year 1929! The orchard's trees produce apples that provide a taste that is both genuine and true to the variety with favorites like Cortland, Macintosh and Red Delicious apples. The orchard has over 2,000 semi-dwarf trees producing a wide variety of apples. In previous years the farm has hosted fun events such as Brunch in the Orchard and weekly alpaca features from Just a Dream Alpaca Farm. Keep an eye out for upcoming events at the orchard here.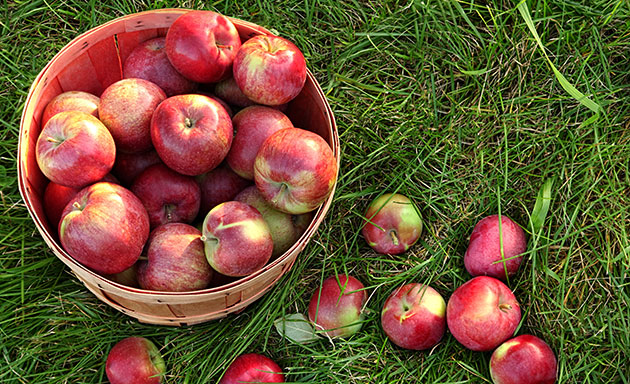 Whether you are looking for a fun day-trip or plan to bake some pies during your next vacation, you may find a journey to any (or all) of the orchards listed above to be beneficial. It's time to begin trekking into the orchards and start picking! Once you've picked as many apples as you can carry, unwind back at the resort in our over-sized Roman Spa hot tub while the children get the remainder of their energy out by swimming in our heated indoor pool equipped with an exciting water slide.