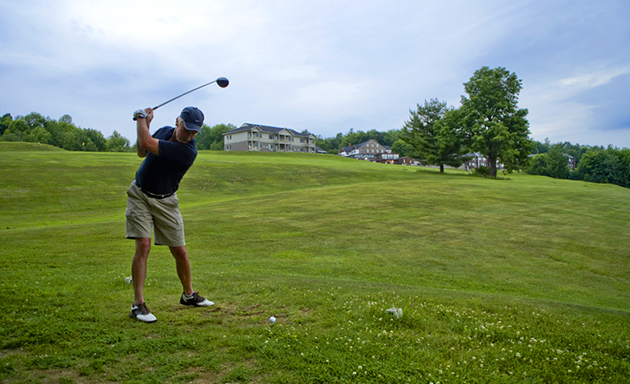 Whether you're a 12-year-old kid or a marathon runner, some people just love to be active. When on vacation you can do whatever you want, so if being active puts you in your happy place, Steele Hill Resorts has something for you and we have the perfect day planned out to experience it all.
It looks like it's going to be a beautiful day out. You won't want to fuss around too much in the morning but you will need to fuel up for the day. So, take a walk up to The Market and grab a fresh cup of Starbucks coffee and a breakfast sandwich to go.
Surrounding the edge of the resort is a five-mile hiking loop with easy to moderate terrain. Before it gets too hot, start your day outdoors in the heart of nature with a brisk walk or run around the loop. This is a great way to soak in that fresh New Hampshire air and clear your mind for the day.
Grab your suit and head down to the outdoor pool area to cool down with a refreshing swim and some laps in the pool. Pull up a lounge chair, hang out, and relax in the sun for a bit. Grab a drink and a healthy lunch option like the Turkey Avocado Wrap off of the Hilltop Restaurant menu using the poolside cabana service.
Head on over to the basketball or tennis courts for some competitive afternoon fun. Other guests are always enjoying the basketball court so join in on a pickup game, or practice those free throws. If tennis is your thing, serve up your ace while taking in views of the rolling mountain ranges to the south.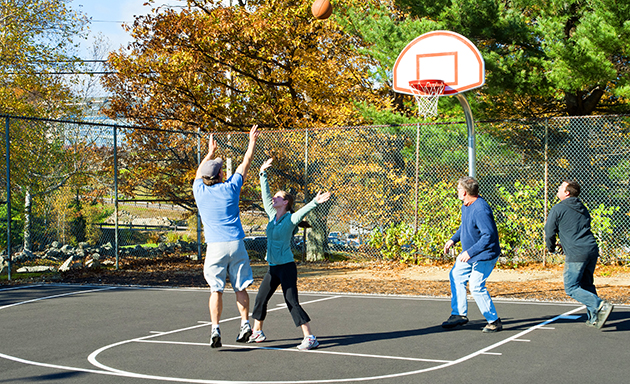 Spend the rest of the afternoon hitting the links with a leisurely 9 holes on our par 3 course. If you are a beginner or have been golfing for years, this course will work for everyone. If you forgot to bring your own clubs don't worry about it, you can head to the check-in office where we rent them out. Did we mention that most of the course offers clear access to views of the lakes and mountains?
Head back to your room and cook up a delicious meal in the comfort of your own kitchen or take advantage of the many grills we offer for guest use around the resort campus. Make sure to fuel your body right so that you have enough energy to get through the night.
Post dinner get a group together for a game of volleyball and watch as the sun goes down; the surrounding landscape shifts through the beautiful sunset shades of dark greens and purples. After your volleyball game, throw on your bathing suit and head out to our new 20ft four-season hot tub to enjoy a soak after a long day of activities. Feel free to retire to your suite's deck and take in the stars for a bit or head in for an early bedtime. After all, you've had a busy day on your active getaway at Steele Hill.