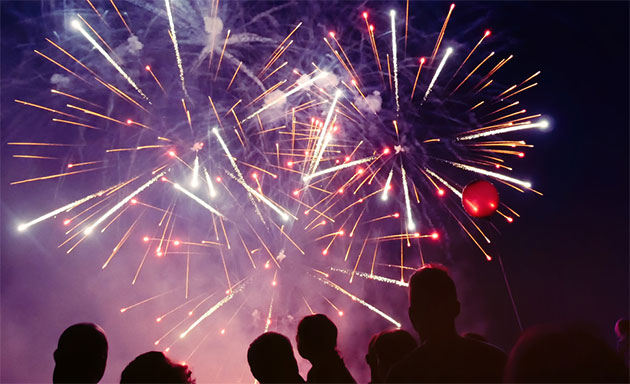 A 30+ year tradition in the making, nothing quite says "I love America" like Cotton Candy, BBQ and Fireworks. So grab your family and friends and head to Steele Hill Resorts to celebrate Independence. This year's festivities will be hosted on July 3rd and feature fireworks, a BBQ, and live music starting at 3pm.
For any newcomers to the party, the fireworks display at Steele Hill offers a very unique vantage point. Guests are invited to sit on the lawn facing the view near the resort outdoor patio while an impressive fireworks display is shot off further down the slope of the golf course. The show will end up being at about eye level so no need to go home feeling like you just got stuck sitting in the front row nose bleed section of the movie theater. These fireworks are up close and personal. The other unique feature of our celebration is that since we have such a great view you can actually see other towns fireworks going off across the Lakes Region. Really get into the spirit of independence as the horizon lights up with celebratory explosions.
Pre-Fireworks, join us for hot dogs and burgers under the outdoor tent, if you are 21 years or older, beer will also be served. For the kids, we will be selling glow sticks and sparklers, along with fried dough and cotton candy. It wouldn't be a celebration without music, so on the Hilltop Restaurant deck DJ Mike will be rocking the tunes and the Sweet Bloods will be performing live music under the outdoor event tent.
Don't forget to bring something to sit on and a sweatshirt in case of a cool summer breeze. The Atlas firework show will begin to shoot off between 9:15 and 9:30pm. With some of the best views in New Hampshire's Lakes Region, you aren't going to want to miss this spectacular event. We'll see you there!