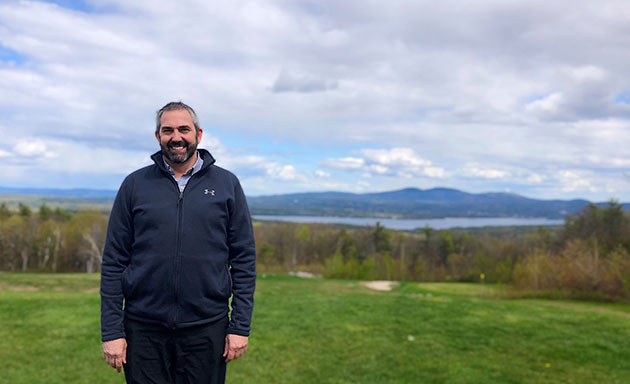 While spring is in full bloom at Steele Hill Resort, summer is fast approaching and we are preparing for a busy summer vacation season. The maintenance crews are hard at work painting rooms and installing new carpet, new couches and mattresses. They are also preparing the golf course, planting flowers and working on enhancing the hiking trails by removing tripping hazards, adding gravel and installing bridges over the wet areas. The housekeepers are cleaning carpets, deep cleaning rooms and restocking units in preparation for our upcoming busy season.
The food and beverage department is looking forward to serving all of our owners and guests. They are in the process of creating some exciting new refreshing poolside cocktails along with some great food specials that will be featured this summer. We just installed a new beer cooler and tap system, so be sure to stop by Tova's and sample an iced cold brew. While at the resort this summer make the rounds and visit all of our outlets: The Hilltop, Tova's Tavern, The Grill at the west outdoor pool and The Oasis pool bar in the amenities building. Guests are also encouraged to order their favorite beverage or entrée pool side at the resort outdoor pool deck. Don't forget you can order any food and beverage item to be delivered right to your room or anywhere on property. If you happen to be staying with us on a Saturday or Sunday start your day with a delicious breakfast at The Hilltop Restaurant.
The Lakes Region offers so much to do but if you don't feel like leaving the resort we have plenty to do right on the property to keep you busy. Besides swimming or relaxing in our pools and hot tubs you can hike our trail network, catch a game of tennis or basketball or play a round of golf or corn hole. This summer make sure to check out our newest amenity, outdoor laser tag opening in June. If you're looking for an indoor activity join our activities director, Nancy, to make some jewelry, paint a canvas or play a few rounds of BINGO. You can also try your hand at air hockey, foosball or one of the video games located in the West amenities building. The Wildlife Encounters animal presentation will also be back this summer on Monday nights. We will have some live entertainment at the outdoor pools throughout the summer and Brew With A View Brewfest will be returning this July so buy your tickets now. However you decide to spend your valuable vacation time, we appreciate you choosing Steele Hill Resorts as your vacation destination and we look forward to seeing you all this summer.
Sincerely,
Rob Robillard