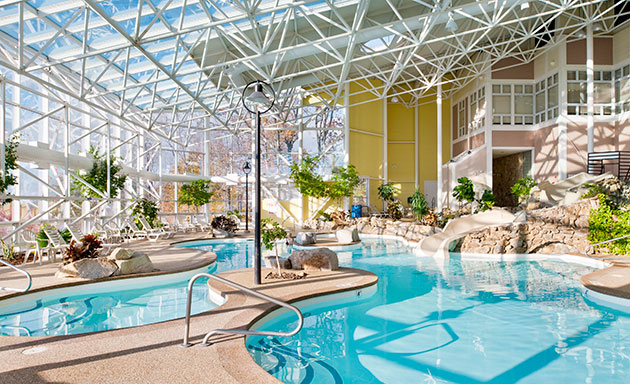 As we welcome our guests back to the resort, the safety and health of our employees, timeshare owners and guests remain our top priority. With our pools opening back up, we would like to take this time to summarize the safety plan and strategies we have implemented to provide you with the most enjoyable and safe vacation possible. We have established a comprehensive reopening strategy that will be following CDC guidelines as well as the COVID-19 Reopening Guidance provided by the Governor's Economic Reopening Taskforce, taking all precautionary measures to protect your health and safety. Here are some of the new procedures we would like you to know about:
Our new pool hours will be 9AM – 9PM daily
Our pools will be open to owners and guests staying onsite with us
During high demand periods, usage of the West Indoor Pool facility may be limited to 90-minute increments and require a reservation in order to meet NH State Covid Safety Guidelines.
Day-use timeshare owners will be provided access to onsite pools on a reservation basis. Please call 603-524-0500 ext. 0 within 24 hours of your planned visit
There will be signage stating social distancing rules and max occupancy that must be adhered to
We have installed alcohol-based hand sanitizer stations and encourage guests to use them frequently
We have rearranged the chairs and lounge furniture to follow social distancing guidelines and will disinfect them regularly
Our cleaning staff is using hospital grade disinfectant to regularly sanitize public spaces including all frequently touched areas such as railings and door handles
Our Fitness Center will be opening Thursday, June 18th and will be limited to a maximum occupancy of 6 people
Masks are mandatory in all common areas and required in public spaces, indoors or outdoors, where guests are unable to or do not consistently maintain a physical distance of at least six feet from persons outside their own households
A major benefit of visiting Steele Hill Resort is the fact that we have four different pool locations, distancing guests out as they enjoy their much-needed vacations. The West Outdoor Pool, located at the top of the West Hill adjacent to the tennis courts and scheduled to open on July 1st, is the perfect location to relax or take a dip on a warm summer day. After cooling off in the pool, hit the courts for a friendly tennis match or access our yellow or red hiking trails for an excursion, with the trail heads located directly behind the courts. The West Indoor Pool, opening on June 18th, is a popular amenity as it is located inside a beautiful glass atrium and acts as a greenhouse for all the different varieties of plants and trees growing inside. There is a large pool that is four feet deep which includes a water slide providing fun for all ages! There is also a kiddie pool with a cascading waterfall mushroom and a smaller water slide for children to enjoy, especially on rainy or cooler days. Within the West Indoor Pool area there is also an over-sized Roman Spa hot tub, great for warming up and relaxing after a refreshing dip.
The Resort Outdoor Pool has the best view on-site. Overlooking Lake Winnisquam and the Belknap Mountain Range, the Resort Outdoor Pool has a large pool deck, great for lounging, getting a nice tan and taking in the incredible views. The water at the Resort Outdoor Pool is always refreshing and the pool has both, a shallow and a deep end to enjoy. The Resort Indoor Pool, with direct access to the outdoor pool, is great for practicing your breaststroke with a depth extending to nine-feet. Both, the Resort Indoor and Outdoor pools open on June 16th. Each pool has something different to offer so there is no wrong choice! By booking one of our current resort packages, you can save money while enjoying our numerous amenities.